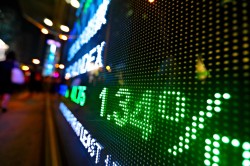 Shares of Integrated Asset Management Corp (TSE:IAM) hit a new 52-week high during mid-day trading on Wednesday . The company traded as high as C$2.01 and last traded at C$2.01, with a volume of 23333 shares. The stock had previously closed at C$1.91.
The firm also recently declared a quarterly dividend, which will be paid on Friday, December 21st. Shareholders of record on Friday, December 21st will be issued a dividend of $0.03 per share. This represents a $0.12 dividend on an annualized basis and a yield of 5.97%. The ex-dividend date is Monday, December 10th. Integrated Asset Management's dividend payout ratio (DPR) is 150.00%.
COPYRIGHT VIOLATION NOTICE: This report was originally posted by Modern Readers and is owned by of Modern Readers. If you are viewing this report on another publication, it was illegally copied and republished in violation of U.S. and international trademark and copyright laws. The original version of this report can be accessed at https://www.modernreaders.com/news/2018/12/13/integrated-asset-management-iam-reaches-new-1-year-high-at-2-01.html.
Integrated Asset Management Company Profile (TSE:IAM)
Integrated Asset Management Corp. operates as an alternative asset investment management company. The company provides investors with private equity, private corporate debt, managed futures, hedge funds, real estate investment management, property management and leasing, and merchant banking. It offers alternative asset class management to institutional, pension, and private clients.
Featured Story: How do investors use RSI to grade stocks?
Receive News & Ratings for Integrated Asset Management Daily - Enter your email address below to receive a concise daily summary of the latest news and analysts' ratings for Integrated Asset Management and related companies with MarketBeat.com's FREE daily email newsletter.