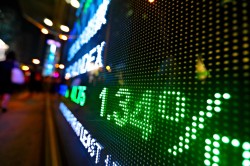 Equities research analysts expect that Livexlive Media Inc (NASDAQ:LIVX) will report earnings per share of ($0.19) for the current fiscal quarter, according to Zacks. Two analysts have issued estimates for Livexlive Media's earnings, with estimates ranging from ($0.20) to ($0.18). The business is scheduled to issue its next quarterly earnings report on Wednesday, February 13th.
On average, analysts expect that Livexlive Media will report full-year earnings of ($0.76) per share for the current fiscal year, with EPS estimates ranging from ($0.78) to ($0.74). For the next financial year, analysts anticipate that the firm will post earnings of $0.08 per share, with EPS estimates ranging from ($0.22) to $0.43. Zacks Investment Research's earnings per share averages are an average based on a survey of research firms that follow Livexlive Media.
Livexlive Media (NASDAQ:LIVX) last announced its quarterly earnings data on Wednesday, November 14th. The company reported ($0.20) earnings per share for the quarter, beating the Thomson Reuters' consensus estimate of ($0.25) by $0.05. The company had revenue of $7.97 million during the quarter, compared to the consensus estimate of $8.20 million.
Several analysts recently weighed in on the stock. HC Wainwright set a $6.00 price objective on shares of Livexlive Media and gave the stock a "buy" rating in a research note on Thursday, December 27th. Zacks Investment Research raised shares of Livexlive Media from a "sell" rating to a "hold" rating in a research note on Thursday, December 20th.
In other news, CEO Robert S. Ellin bought 16,201 shares of the company's stock in a transaction that occurred on Monday, November 19th. The shares were acquired at an average price of $3.97 per share, for a total transaction of $64,317.97. The transaction was disclosed in a legal filing with the Securities & Exchange Commission, which can be accessed through the SEC website. In the last three months, insiders purchased 36,303 shares of company stock worth $157,843. 37.00% of the stock is currently owned by insiders.
Shares of NASDAQ LIVX traded down $0.11 during mid-day trading on Friday, hitting $5.93. The company had a trading volume of 100 shares, compared to its average volume of 253,554. The stock has a market capitalization of $324.43 million, a price-to-earnings ratio of -12.38 and a beta of 1.05. The company has a debt-to-equity ratio of 0.35, a current ratio of 0.60 and a quick ratio of 0.60. Livexlive Media has a one year low of $2.52 and a one year high of $11.11.
About Livexlive Media
LiveXLive Media, Inc engages in the acquisition, distribution, and monetization of live music, Internet radio, and music-related streaming and video content. The company operates LiveXLive, a live music streaming platform, as well as Slacker Radio, a streaming music service; and produces original music-related content.
Featured Story: What strategies should day traders use to execute a trade?
Get a free copy of the Zacks research report on Livexlive Media (LIVX)
For more information about research offerings from Zacks Investment Research, visit Zacks.com
Receive News & Ratings for Livexlive Media Daily - Enter your email address below to receive a concise daily summary of the latest news and analysts' ratings for Livexlive Media and related companies with MarketBeat.com's FREE daily email newsletter.