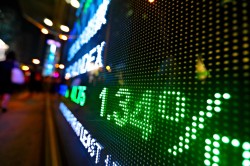 Life & Banc Split Corp. (TSE:LBS) announced a monthly dividend on Wednesday, January 30th, TickerTech reports. Stockholders of record on Thursday, February 14th will be paid a dividend of 0.10 per share on Thursday, February 14th. This represents a $1.20 dividend on an annualized basis and a dividend yield of 14.55%. The ex-dividend date of this dividend is Wednesday, January 30th.
LBS stock traded up C$0.01 during mid-day trading on Wednesday, hitting C$8.25. The company had a trading volume of 22,820 shares, compared to its average volume of 76,905. The stock has a market cap of $188.97 million and a P/E ratio of 14.36. Life & Banc Split has a 12-month low of C$4.93 and a 12-month high of C$10.32. The company has a quick ratio of 75.52, a current ratio of 75.54 and a debt-to-equity ratio of 116.05.
In other news, Director Mark A. Caranci purchased 5,000 shares of the business's stock in a transaction that occurred on Tuesday, January 15th. The shares were bought at an average cost of C$9.80 per share, for a total transaction of C$49,000.00. Following the acquisition, the director now owns 20,000 shares of the company's stock, valued at approximately C$196,000.
WARNING: This article was originally reported by Modern Readers and is the property of of Modern Readers. If you are viewing this article on another site, it was copied illegally and republished in violation of United States & international copyright and trademark laws. The legal version of this article can be read at https://www.modernreaders.com/news/2019/02/13/life-banc-split-corp-lbs-announces-0-10-monthly-dividend.html.
About Life & Banc Split
Life & Banc Split Corp. is a closed-ended equity mutual fund launched and managed by Brompton Funds Limited. The fund invests in the public equity markets of Canada. It seeks to invest in stocks of companies operating across banking and life insurance sector. The fund primarily invests in the stocks of the six largest banks of the country, as well as of life insurance companies, utilizing a split share structure on a low cost basis.
Featured Story: How Do You Calculate Return on Equity (ROE)?
Receive News & Ratings for Life & Banc Split Daily - Enter your email address below to receive a concise daily summary of the latest news and analysts' ratings for Life & Banc Split and related companies with MarketBeat.com's FREE daily email newsletter.