Peel Hunt lowered shares of RPC Group (LON:RPC) to a hold rating in a report issued on Monday morning. Peel Hunt currently has GBX 782 ($10.22) target price on the stock, down from their prior target price of GBX 1,230 ($16.07).
Several other research firms also recently weighed in on RPC. JPMorgan Chase & Co. restated an overweight rating on shares of RPC Group in a research report on Friday, February 1st. Numis Securities restated a buy rating and issued a GBX 1,130 ($14.77) price objective on shares of RPC Group in a research report on Monday, November 5th. Finally, Panmure Gordon downgraded RPC Group to a hold rating and lowered their price objective for the company from GBX 1,000 ($13.07) to GBX 782 ($10.22) in a research report on Thursday, January 24th. Two investment analysts have rated the stock with a hold rating and five have assigned a buy rating to the company's stock. RPC Group presently has an average rating of Buy and an average price target of GBX 948.80 ($12.40).
LON RPC opened at GBX 794.40 ($10.38) on Monday. RPC Group has a fifty-two week low of GBX 714.50 ($9.34) and a fifty-two week high of GBX 1,032 ($13.48).
The company also recently announced a dividend, which was paid on Friday, January 25th. Stockholders of record on Thursday, December 27th were issued a GBX 8.10 ($0.11) dividend. The ex-dividend date of this dividend was Thursday, December 27th. This represents a dividend yield of 1.09%.
RPC Group Company Profile
RPC Group Plc operates as a plastic product design and engineering company worldwide. It operates through two segments, Packaging and Non-Packaging. The Packaging segment designs plastic packaging for end markets, including the food, beverage, personal care, and healthcare markets; and designs and manufactures other plastic products, such as containers for surface coatings comprising paint pots and vaping accessories.
Recommended Story: How analysts view the yield curve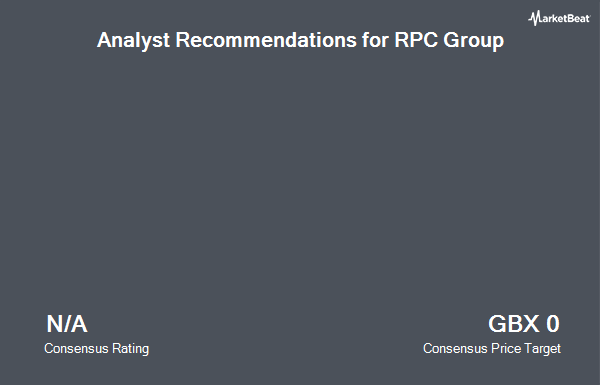 Receive News & Ratings for RPC Group Daily - Enter your email address below to receive a concise daily summary of the latest news and analysts' ratings for RPC Group and related companies with MarketBeat.com's FREE daily email newsletter.