Tennant (NYSE:TNC) is scheduled to post its quarterly earnings results before the market opens on Thursday, February 21st. Analysts expect Tennant to post earnings of $0.47 per share for the quarter.
TNC stock opened at $62.60 on Thursday. The company has a current ratio of 1.84, a quick ratio of 1.25 and a debt-to-equity ratio of 1.03. The firm has a market cap of $1.10 billion, a price-to-earnings ratio of 40.65, a PEG ratio of 2.55 and a beta of 1.07. Tennant has a fifty-two week low of $48.97 and a fifty-two week high of $86.03.
Separately, Zacks Investment Research upgraded Tennant from a "hold" rating to a "buy" rating and set a $63.00 price objective on the stock in a research report on Tuesday, January 15th.
COPYRIGHT VIOLATION NOTICE: This story was posted by Modern Readers and is the property of of Modern Readers. If you are reading this story on another website, it was illegally copied and republished in violation of US and international copyright and trademark laws. The original version of this story can be accessed at https://www.modernreaders.com/news/2019/02/14/tennant-tnc-scheduled-to-post-earnings-on-thursday.html.
About Tennant
Tennant Company designs, manufactures, and markets floor cleaning equipment. It offers a suite of products, including floor maintenance and outdoor cleaning equipment, detergent-free and other sustainable cleaning technologies, aftermarket parts and consumables, equipment maintenance and repair services, specialty surface coatings, and asset management solutions.
Recommended Story: Net Income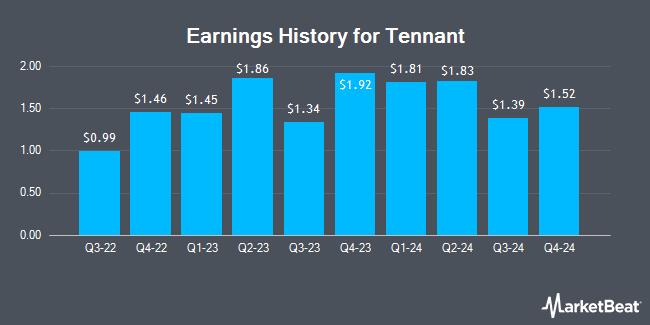 Receive News & Ratings for Tennant Daily - Enter your email address below to receive a concise daily summary of the latest news and analysts' ratings for Tennant and related companies with MarketBeat.com's FREE daily email newsletter.