US Ecology (NASDAQ:ECOL) is scheduled to announce its earnings results after the market closes on Thursday, February 21st. Analysts expect the company to announce earnings of $0.66 per share for the quarter. Investors interested in listening to the company's conference call can do so using this link.
ECOL stock opened at $64.17 on Thursday. The company has a market capitalization of $1.38 billion, a PE ratio of 37.31 and a beta of 0.54. US Ecology has a twelve month low of $48.80 and a twelve month high of $77.15. The company has a debt-to-equity ratio of 0.78, a current ratio of 2.23 and a quick ratio of 2.23.
The company also recently disclosed a quarterly dividend, which was paid on Friday, January 25th. Stockholders of record on Friday, January 18th were issued a $0.18 dividend. This represents a $0.72 annualized dividend and a dividend yield of 1.12%. The ex-dividend date was Thursday, January 17th. US Ecology's payout ratio is currently 41.86%.
Several equities research analysts have recently weighed in on ECOL shares. BidaskClub raised US Ecology from a "hold" rating to a "buy" rating in a report on Tuesday, November 13th. Zacks Investment Research downgraded US Ecology from a "buy" rating to a "hold" rating in a report on Monday, January 7th. Finally, BMO Capital Markets increased their price objective on US Ecology from $74.00 to $75.00 and gave the company a "market perform" rating in a report on Tuesday, November 20th. Three analysts have rated the stock with a sell rating, two have assigned a hold rating and two have assigned a buy rating to the company. US Ecology has a consensus rating of "Hold" and an average target price of $70.60.
TRADEMARK VIOLATION WARNING: "US Ecology (ECOL) to Release Quarterly Earnings on Thursday" was originally posted by Modern Readers and is owned by of Modern Readers. If you are accessing this article on another publication, it was copied illegally and republished in violation of United States & international trademark & copyright laws. The legal version of this article can be read at https://www.modernreaders.com/news/2019/02/14/us-ecology-ecol-to-release-quarterly-earnings-on-thursday.html.
About US Ecology
US Ecology, Inc, through its subsidiaries, provides environmental services to commercial and government entities in the United States, Canada, and Mexico. It operates in two segments, Environmental Services; and Field & Industrial Services. The Environmental Services segment offers hazardous material management services, including transportation, recycling, treatment, and disposal of hazardous and non-hazardous waste at its landfill, wastewater, and other treatment facilities.
Featured Story: Strike Price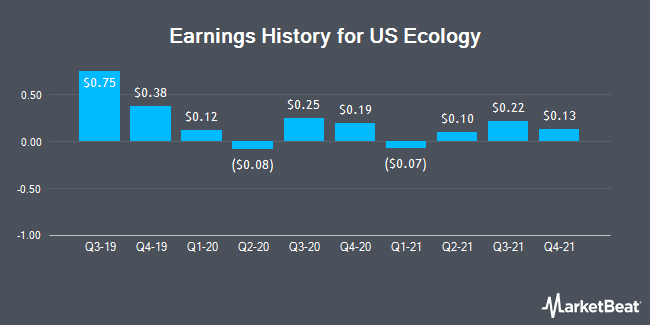 Receive News & Ratings for US Ecology Daily - Enter your email address below to receive a concise daily summary of the latest news and analysts' ratings for US Ecology and related companies with MarketBeat.com's FREE daily email newsletter.