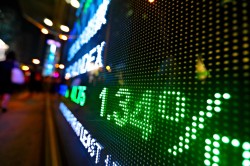 Ironveld PLC (LON:IRON) shares were up 12% during mid-day trading on Thursday . The company traded as high as GBX 2.29 ($0.03) and last traded at GBX 2.10 ($0.03). Approximately 4,056,416 shares were traded during mid-day trading, an increase of 576% from the average daily volume of 600,325 shares. The stock had previously closed at GBX 1.88 ($0.02).
Ironveld (LON:IRON) last posted its quarterly earnings results on Friday, December 7th. The company reported GBX (0.10) ($0.00) earnings per share (EPS) for the quarter.
ILLEGAL ACTIVITY WARNING: This news story was originally reported by Modern Readers and is the sole property of of Modern Readers. If you are reading this news story on another domain, it was stolen and republished in violation of United States and international copyright & trademark laws. The correct version of this news story can be viewed at https://www.modernreaders.com/news/2019/02/23/ironveld-iron-trading-up-12.html.
About Ironveld (LON:IRON)
Ironveld Plc, an exploration and development company, engages in the mining, exploration, processing, and smelting of vanadiferous and titaniferous magnite. It owns interest in the iron, vanadium, and titanium project located on the Northern Limb of the Bushveld Complex in Limpopo Province, South Africa.
Further Reading: Convertible Shares
Receive News & Ratings for Ironveld Daily - Enter your email address below to receive a concise daily summary of the latest news and analysts' ratings for Ironveld and related companies with MarketBeat.com's FREE daily email newsletter.