AA (LON:AA)'s stock had its "sell" rating reissued by equities researchers at Berenberg Bank in a research note issued to investors on Thursday, April 4th, Digital Look reports. They currently have a GBX 65 ($0.85) price target on the stock. Berenberg Bank's target price suggests a potential downside of 21.78% from the company's previous close.
AA has been the topic of a number of other reports. Liberum Capital reiterated a "buy" rating on shares of AA in a research note on Thursday, February 7th. Peel Hunt reiterated a "buy" rating on shares of AA in a research note on Tuesday, January 22nd. Three research analysts have rated the stock with a sell rating, one has assigned a hold rating and two have issued a buy rating to the stock. The company presently has an average rating of "Hold" and a consensus price target of GBX 106.25 ($1.39).
LON AA opened at GBX 83.10 ($1.09) on Thursday. AA has a 12 month low of GBX 66.28 ($0.87) and a 12 month high of GBX 148.50 ($1.94). The firm has a market cap of $509.91 million and a price-to-earnings ratio of 12.04.
About AA
AA plc provides roadside assistance, insurance, and driving services in the United Kingdom. It operates through two segments, Roadside and Insurance. The company's roadside assistance services include breakdowns cover for cars, motorcycles, caravans, vans, campervans, and towing; vehicle inspections, tires, and connected car services; operates driving schools that provide driver training and educative programs, and hotels.
See Also: New Google Finance Tool and Screening Stocks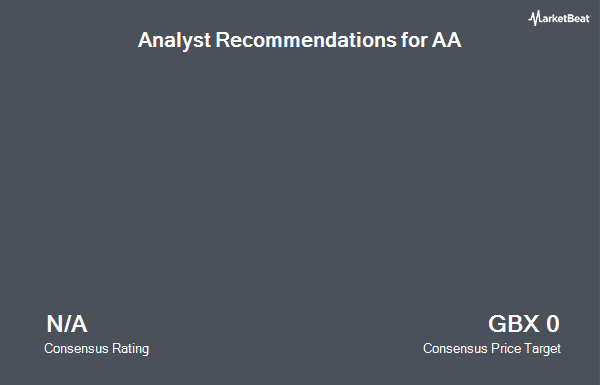 Receive News & Ratings for AA Daily - Enter your email address below to receive a concise daily summary of the latest news and analysts' ratings for AA and related companies with MarketBeat.com's FREE daily email newsletter.