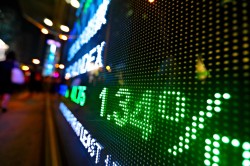 Shares of Youngevity International Inc (NASDAQ:YGYI) have been assigned a consensus broker rating score of 1.00 (Strong Buy) from the one brokers that cover the company, Zacks Investment Research reports. One equities research analyst has rated the stock with a strong buy recommendation.
Brokers have set a one year consensus price objective of $17.00 for the company, according to Zacks. Zacks has also assigned Youngevity International an industry rank of 173 out of 256 based on the ratings given to related companies.
A number of analysts have recently weighed in on the stock. ValuEngine raised shares of Youngevity International from a "hold" rating to a "buy" rating in a report on Monday, February 4th. Benchmark increased their price objective on shares of Youngevity International from $9.00 to $14.00 and gave the company a "buy" rating in a research note on Wednesday, February 13th.
Shares of Youngevity International stock traded up $0.06 on Friday, reaching $6.41. 147,420 shares of the stock were exchanged, compared to its average volume of 173,463. Youngevity International has a one year low of $3.17 and a one year high of $16.25. The company has a quick ratio of 0.47, a current ratio of 1.06 and a debt-to-equity ratio of 0.71.
Youngevity International (NASDAQ:YGYI) last issued its quarterly earnings results on Tuesday, April 16th. The company reported ($0.46) earnings per share for the quarter, missing the Zacks' consensus estimate of ($0.06) by ($0.40). Youngevity International had a negative return on equity of 126.10% and a negative net margin of 12.35%. The firm had revenue of $36.11 million for the quarter.
Large investors have recently modified their holdings of the stock. Jefferies Group LLC bought a new position in Youngevity International in the 1st quarter valued at approximately $68,000. BlackRock Inc. lifted its stake in Youngevity International by 2,794.4% in the 4th quarter. BlackRock Inc. now owns 12,938 shares of the company's stock valued at $74,000 after purchasing an additional 12,491 shares during the last quarter. ExodusPoint Capital Management LP bought a new position in Youngevity International in the 1st quarter valued at approximately $87,000. Citigroup Inc. bought a new position in Youngevity International in the 1st quarter valued at approximately $88,000. Finally, Northern Trust Corp bought a new position in Youngevity International in the 4th quarter valued at approximately $96,000. 2.74% of the stock is owned by institutional investors and hedge funds.
Youngevity International Company Profile
Youngevity International, Inc develops and distributes health and nutrition related products and services through independent direct selling network in the United States and internationally. It operates in two segments, Direct Selling and Commercial Coffee. The company offers approximately 5,500 products, including nutritional, vitamin, mineral, herbal, liquid, and dietary supplements; apparel; fashion and jewelry accessories; digital products; and packaged foods.
See Also: Understanding Analyst Recommendations

Get a free copy of the Zacks research report on Youngevity International (YGYI)
For more information about research offerings from Zacks Investment Research, visit Zacks.com
Receive News & Ratings for Youngevity International Daily - Enter your email address below to receive a concise daily summary of the latest news and analysts' ratings for Youngevity International and related companies with MarketBeat.com's FREE daily email newsletter.