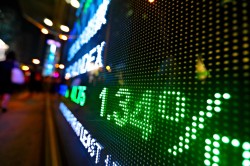 Shares of Eagle Financial Services Inc (OTCMKTS:EFSI) crossed below its 200-day moving average during trading on Wednesday . The stock has a 200-day moving average of $30.83 and traded as low as $30.50. Eagle Financial Services shares last traded at $30.50, with a volume of 148 shares.
The stock has a market capitalization of $104.05 million, a P/E ratio of 11.59 and a beta of 0.29. The firm has a 50-day moving average of $29.98 and a 200 day moving average of $30.83.
In other news, Director James R. Wilkins, Jr. bought 1,000 shares of Eagle Financial Services stock in a transaction that occurred on Monday, August 12th. The stock was purchased at an average cost of $29.90 per share, with a total value of $29,900.00. The purchase was disclosed in a document filed with the Securities & Exchange Commission, which is available through the SEC website. Also, Director James R. Wilkins, Jr. acquired 993 shares of the business's stock in a transaction on Thursday, August 15th. The shares were bought at an average cost of $29.98 per share, with a total value of $29,770.14. The disclosure for this purchase can be found here. Over the last ninety days, insiders purchased 2,793 shares of company stock valued at $83,908. 22.57% of the stock is owned by company insiders.
About Eagle Financial Services (OTCMKTS:EFSI)
Eagle Financial Services, Inc operates as the bank holding company for Bank of Clarke County that provides various retail and commercial banking services in the Shenandoah Valley and Northern Virginia. The company offers deposit products, such as checking, NOW, money market, and regular savings accounts; and demand and time deposits.
Further Reading: Why does a company issue an IPO?

Receive News & Ratings for Eagle Financial Services Daily - Enter your email address below to receive a concise daily summary of the latest news and analysts' ratings for Eagle Financial Services and related companies with MarketBeat.com's FREE daily email newsletter.