Synopsys (NASDAQ:SNPS) issued an update on its first quarter 2020
After-Hours earnings guidance on Wednesday morning. The company provided earnings per share guidance of 0.89-0.94 for the period, compared to the Thomson Reuters consensus earnings per share estimate of $1.20. The company issued revenue guidance of $805-835 million, compared to the consensus revenue estimate of $871.21 million.Synopsys also updated its FY 2020
After-Hours guidance to 5.18-5.25 EPS.
NASDAQ:SNPS traded up $0.80 during trading hours on Wednesday, reaching $136.01. 1,019,760 shares of the stock were exchanged, compared to its average volume of 1,078,809. The company has a quick ratio of 0.90, a current ratio of 0.99 and a debt-to-equity ratio of 0.03. The business has a 50-day moving average of $137.49 and a two-hundred day moving average of $133.03. Synopsys has a twelve month low of $79.14 and a twelve month high of $146.66. The company has a market capitalization of $21.20 billion, a price-to-earnings ratio of 48.23, a PEG ratio of 3.46 and a beta of 1.20.
A number of research analysts have commented on SNPS shares. JPMorgan Chase & Co. upped their price target on Synopsys from $138.00 to $157.00 and gave the stock a neutral rating in a research note on Wednesday, September 11th. Zacks Investment Research upgraded Synopsys from a sell rating to a hold rating and set a $142.00 price target on the stock in a research note on Monday, August 26th. Credit Suisse Group restated a positive rating and set a $150.00 price target (up from $125.00) on shares of Synopsys in a research note on Thursday, August 22nd. KeyCorp upped their price target on Synopsys from $152.00 to $153.00 and gave the stock an overweight rating in a research note on Thursday, August 22nd. Finally, Needham & Company LLC set a $145.00 price target on Synopsys and gave the stock a buy rating in a research note on Monday, September 30th. Four investment analysts have rated the stock with a hold rating, seven have assigned a buy rating and one has issued a strong buy rating to the company's stock. The company has a consensus rating of Buy and an average price target of $148.30.
In other news, VP Sudhindra Kankanwadi sold 8,011 shares of the stock in a transaction on Thursday, September 5th. The stock was sold at an average price of $144.30, for a total value of $1,155,987.30. Following the sale, the vice president now directly owns 8,663 shares in the company, valued at $1,250,070.90. The sale was disclosed in a legal filing with the SEC, which can be accessed through this hyperlink. 1.84% of the stock is currently owned by company insiders.
Synopsys Company Profile
Synopsys, Inc provides electronic design automation software products used to design and test integrated circuits (ICs). It offers Fusion Design Platform, a digital design implementation solution; Verification Continuum Platform, which provides virtual prototyping, static and formal verification, simulation, emulation, field-programmable gate array (FPGA)-based prototyping, and debug solutions; and FPGA design products that are programmed to perform specific functions.
Further Reading: What does a market perform rating mean?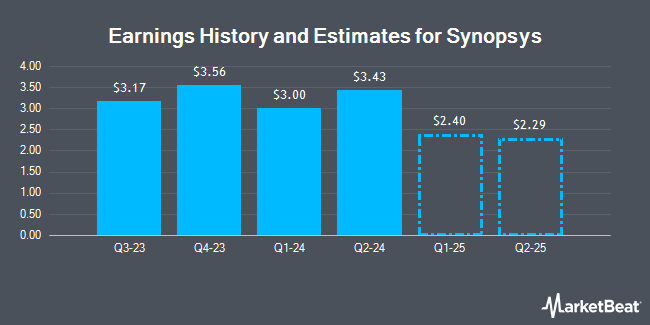 Receive News & Ratings for Synopsys Daily - Enter your email address below to receive a concise daily summary of the latest news and analysts' ratings for Synopsys and related companies with MarketBeat.com's FREE daily email newsletter.