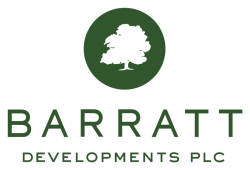 Barratt Developments (LON:BDEV) was upgraded by equities researchers at Davy Research to an "outperform" rating in a research report issued on Thursday, Stock Target Advisor reports.
Other analysts also recently issued reports about the company. Jefferies Financial Group decreased their price target on Barratt Developments from GBX 729 ($9.28) to GBX 659 ($8.39) and set a "buy" rating on the stock in a research note on Tuesday, April 21st. Peel Hunt restated a "hold" rating on shares of Barratt Developments in a research report on Friday, May 1st. Liberum Capital reiterated a "hold" rating on shares of Barratt Developments in a report on Monday, April 27th. Citigroup reissued a "neutral" rating on shares of Barratt Developments in a report on Thursday, June 18th. Finally, HSBC increased their target price on shares of Barratt Developments from GBX 710 ($9.04) to GBX 900 ($11.45) and gave the company a "buy" rating in a report on Tuesday. One equities research analyst has rated the stock with a sell rating, six have issued a hold rating and nine have assigned a buy rating to the company. Barratt Developments currently has an average rating of "Buy" and a consensus target price of GBX 692.23 ($8.81).
Shares of BDEV opened at GBX 501.60 ($6.38) on Thursday. The company has a current ratio of 3.84, a quick ratio of 0.55 and a debt-to-equity ratio of 5.18. The stock's 50 day moving average is GBX 511.88 and its two-hundred day moving average is GBX 628.20. Barratt Developments has a twelve month low of GBX 349.40 ($4.45) and a twelve month high of GBX 979.54 ($12.47). The firm has a market capitalization of $5.14 billion and a PE ratio of 6.84.
About Barratt Developments
Barratt Developments PLC engages in the housebuilding and commercial development businesses in Great Britain. It acquires and develops land; plans, designs, and constructs residential properties, including apartments, penthouses, and communities; and develops and sells homes. The company offers homes under the Barratt Homes, David Wilson Homes, and Barratt London brands.
Further Reading: What does an inverted yield curve signify?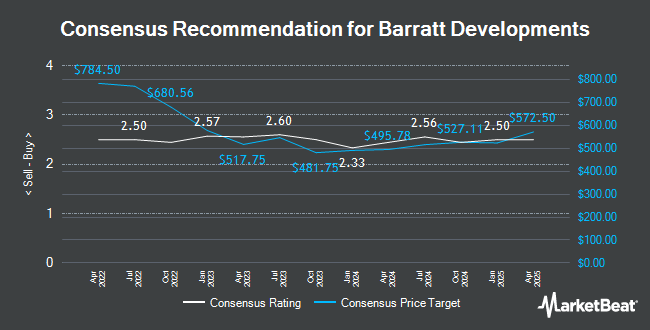 Receive News & Ratings for Barratt Developments Daily - Enter your email address below to receive a concise daily summary of the latest news and analysts' ratings for Barratt Developments and related companies with MarketBeat.com's FREE daily email newsletter.